Learnex, English Forever ¡Aprende Inglés para Siempre!
Do you think you know everything about Bruno Mars? Check out our list of fun facts on your favorite singer and practice your English with his lyrics.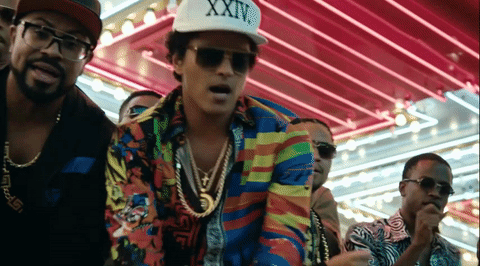 He has Puerto Rican and Filipino ancestry.
His nickname was given to him by his father because he thought his son resembled the professional wrestler Bruno Sammartino. The last name "Mars" was his idea because girls say he's "out of this world."
His family is also in the music business. His mother was a hula dancer and his father a drummer while his sisters have their very own musical group called The Lylas and his brother is a drummer in his backup band The Hooligans.
When he was only 4 years old he used to impersonate Elvis in the Hawaiian variety show of his father and uncle.
He also plays the drums, bass, guitar and keyboard.
Before being known as a successful singer he was a music producer and wrote several artists like CeeLo Green and Flo Rida.
He has seven number one hits on Billboard.
He has won five Grammys for "Just the Way You Are" (2010), "Unorthodox Jukebox" (2013), two for "Uptown Funk" (2015) and "25" (2016) for album of the year.
You can follow him on twitter with his user name @BrunoMars
Which is your favorite Bruno Mars' song? Tell us in the comment section.